2023 Lent & Easter at Fairport UMC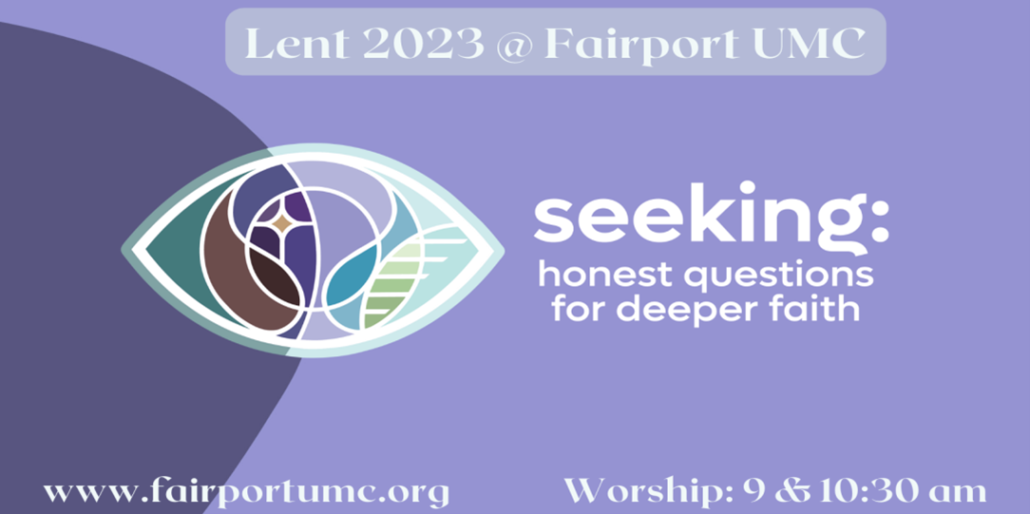 If you would like to DOWNLOAD THE Lent Devotional, please contact or email the church office HERE.
About the Theme 
The lectionary for 2023 offers us many stories of Jesus encountering people who are seeking: Nicodemus comes to him in the veil of night, he approaches a Samaritan woman at a well, he heals a man born without sight. In these stories, each person is seeking a new beginning, a different life, a deeper faith. What unfolds is an exchange filled with questions and exploration. Often, an unveiling occurs—assumptions are disrupted, a new perspective is revealed, mystery grows.
And so, this Lenten series is founded on questions. Many of our weekly questions feel restorative ("Can these bones live?"). Some feel like a charge or challenge ("Who will you listen to?"). Some questions are hopeful and curious ("How do we begin again?"). Our questions won't necessarily lead to answers, but they can help us find clarity and a new perspective. Ultimately, we pray they lead to a new beginning, a restoration, a wider grace.
Like the characters in our Lenten scriptures, we are also seeking many things: clarity, connection, wonder, justice, balance. We are seeking our calling, the sacred, and how to live as a disciple. Throughout the turbulence of the past few years, many of us are asking big questions about our lives and our faith. If you are returning to church, you are probably returning with more questions and a critical lens. We hope this series will help us unpack some of those big questions in ways that are honest and faithful. Throughout this season, we hope you will continually ask yourself: what am I seeking? What is God seeking?
This Lent, we invite you to engage in the spiritual practice of seeking. We encourage you to stay curious, open, and nimble. We hope you will soften your assumptions and expand your perspectives. We pray that these questions will create a safe space to explore—to be drawn more deeply into the fullness of life, into the heart of God.
Wed Feb 22 – Ash Wednesday
7:00 pm, Fairport UMC, 31 West Church Street, Fairport, NY 14450
Sun Feb 26 – Lent 1: Who Will You Listen To?
Matthew 4:1-11 | Genesis 2:15-17, 3:1-7
9:00 am &10:30 am Fairport UMC

Seeking the fruit of the garden, Adam and Eve allow the snake's manipulative voice to become louder than God's voice. In the wilderness, Jesus defies the deception of the tempter by listening intuitively—to God, to his inner moral compass, to the teachings of his faith. And so, who will you listen to? What sources do you seek for news, information, and media? Whose voices—and what messages—take up too much space in your head? Within the onslaught of messaging we receive, we are invited to choose carefully.
Sun Mar 5 – Lent 2: How do we begin again?
John 3:1-17 | Genesis 12:1-4a
9:00 am &10:30 am Fairport UMC

Nicodemus comes to Jesus under the veil of night to ask him big faith questions. Jesus invites him to begin again, to learn a new way of knowing and living out his faith. In Genesis, God commands Abram and Sarai to leave everything—their home, their family, their land—to seek the land of Canaan and begin again. Like Nicodemus, what are the questions we ask in the dark? Like Abram and Sarai, how do we follow God's calling to begin again?
Sun Mar 12 – Lent 3: Will you give me a drink?
John 4:5-42 | Exodus 17:1-7
9:00 am &10:30 am Fairport UMC

In the heat of midday, Jesus seeks out a Samaritan woman drawing water from a well. His command to her is also a question and an invitation into a new way of life: "Will you give me a drink?" This question creates a dialogue between them in which Jesus sees the woman fully; she leaves the well transformed. In the wilderness, the Israelites essentially ask: "Will you give us a drink, God? Will you take care of us, even now?" This week, we might imagine ourselves at the well or in the wilderness. Are we willing to care for our neighbors, seeking to not just quench thirst, but to find living waters that sustain us all?
Sun Mar 19 – Lent 4: Who sinned?
John 9:1-7 | John 9:8-41
9:00 am &10:30 am Fairport UMC

When Jesus and the disciples encounter a blind man along the way, the disciples immediately ask, "Teacher, who sinned, this man or his parents, that he was born blind?" (John 9:2). They ask a really bad question, filled with assumptions and harmful theology. Unfortunately, the crowd continues to interrogate the man and dissect the miracle of his healing. This week, let us pay attention to the questions we ask. What assumptions do we carry? What is our intent? When seeking clarity or understanding, what are better questions we can ask?
Sun Mar 26 – Lent 5: Can these bones live?
John 11:1-45 | Ezekiel 37:1-14
9:00 am &10:30 am Fairport UMC

In Ezekiel's vision, God asks the prophet, "Can these bones live?" Do we believe new life can come after death? Can we find hope when things are bleak? Can we really trust in God's resurrection? While we look to God to carry us through the valley, God looks to us to embody hope for others. As we prepare to enter Holy Week, we remember how Jesus began his final journey toward resurrection: by returning to Judea after the death of his dear friend, Lazarus. As we walk through the valley of dry bones that leads us to Calvary Hill, let us seek out the hope that will stir in us and sustain us.
Sun Apr 2 – Palm Sunday: Where are you headed?
Matthew 21:1-11
9:00 am &10:30 am Fairport UMC

Imagine you are in Jerusalem when Jesus enters on a donkey. Within the chaos and commotion of that scene, where are you and which way will you go? Will you follow Jesus all the way to the cross? Jesus' willing surrender to his arrest should always catch us off-guard. As dismayed as the disciples, we ask, "Jesus, are you really headed this way, straight to your death?" Many of our weekly questions throughout the season so far have helped us prepare spiritually for Holy Week. Now we examine if our beliefs have changed our behaviors. Has your path changed?
In the midst of opposing forces, which way will you go?
Thu Apr 6: Maundy Thursday
John 13:1-17, 31b-35
5:00 pm
Community Maundy Thursday Worship Service
Perinton Presbyterian Church, 6511 Pittsford Palmyra Rd, Fairport, NY 14450
In the Christian tradition, Maundy Thursday always falls on the Thursday before Easter Sunday. Maundy Thursday commemorates Christ's last supper with the apostles in Jerusalem before being crucified and resurrected. The name is derived from the Latin mandate, which means "command."  Jesus celebrated the Last Supper with His disciples and thereby instituted the Lord's Supper, also called Communion. Many Christian churches observe a special Communion service on Maundy Thursday in memory of Jesus' Last Supper with his disciples. Jesus washed the disciples' feet as an act of humility and service, thereby setting an example that we should love and serve one another in humility. According to John's gospel, at the meal Jesus had with his followers, he told them: "A new commandment I give to you, that you love one another: as I have loved you, that you also love one another" John 13:34.
6:00 pm
Congregation Etz Chaim, 2 Mountain Rise, Fairport, New York 14450   (585) 223-5344
Rabbi David Abrahams and Congregation Etz Chaim have graciously extended an invitation to the all the churches in Perinton to a Community Seder. We will gather a little before 6pm. RSVP are required. Please call FUMC to let us know if you will be attending and if you will have any children under 13.
Fri Apr 7: Good Friday: Why have you forsaken me?
Matthew 27:27-50
12:00 pm
Fairport Community Cross Walk
We will gather at noon at First Congregational UCC, 26 E Church St, Fairport, NY 14450. We will sing a song and then begin our walk through the village stopping at various locations to listen to scripture and to be in prayer. Each church in the community will have someone to carry the cross and to lead readings.
7:00 pm
Communion & Tenebrae Service Fairport UMC

Of all the questions in our series, this one remains the most unanswerable. Jesus' final lament gives voice to all those who have been forsaken— those who suffer injustice, those who are abandoned, those who are unjustly convicted. Instead of trying to answer this question with logic or theology, we are invited to live it, to sit with it. Sitting with this unsettling question unearths and unveils many more questions: What do we do in the face of unimaginable suffering? Can we sit in the silence of death and trust that God is there? Will we be in solidarity with those who suffer and grieve?
"Tenebrae" is the Latin word meaning "darkness." This service involves the segmented reading of John's story of the trial, sentencing, execution, death, and burial of Jesus. After each segment of the story is read, a candle is extinguished. After the fifteenth reading, which confirms that Jesus had died on the cross, the last of the 15 lit candles will be extinguished. The final story of the burial is read in near darkness, with the only light being used by the reader. Worshipers will reflect and leave in silence to ponder the impact of Christ's death and await the celebration of the coming Resurrection.
Sun Apr 9: Easter Sunday: Who are you looking for?
John 20:1-18
9:00 am &10:30 am Fairport UMC
Jesus, mysteriously appearing to Mary as the gardener, asks her: "Why are you weeping? Who are you looking for?" In the haze of grief, Mary can only see what is right before her—or in this case, what is not before her. It is only when Jesus calls her by name that the veil is lifted and she beholds the resurrected Christ. On this Easter morning, who—or what—are you looking for? Why have you come to the tomb? What kind of Jesus are you looking for? What veils need to be lifted so we can recognize God's resurrection wherever it occurs?