Outreach
Fairport United Methodist Church has numerous ways to get involved. Here are some of our outreach opportunities:
Sunday Dinner
Sunday Dinner is a free, Sunday afternoon community dinner program designed to help those who are in need of a warm meal, or just a warm smile and some fellowship on a Sunday afternoon. Our original intent was to reach those who were homeless and/or seriously in need of a warm, well-balanced dinner. However, being in the Rochester suburbs we have less homeless, and more elderly. So, our guests tend to run about 80% elderly, who are probably there more for the fellowship than from a need for food, and 20% people who are in low-income or jobless, subsidized housing, situations who do need a good meal. Our guests arrive around noon for a well balanced sit-down (they sit down and we serve them everything and then clear it all away) dinner that we serve to them around 12:30pm. Typically we serve around 45-50 people in the Fellowship Hall and deliver another 55-60 to people who are unable the get to the church for dinner.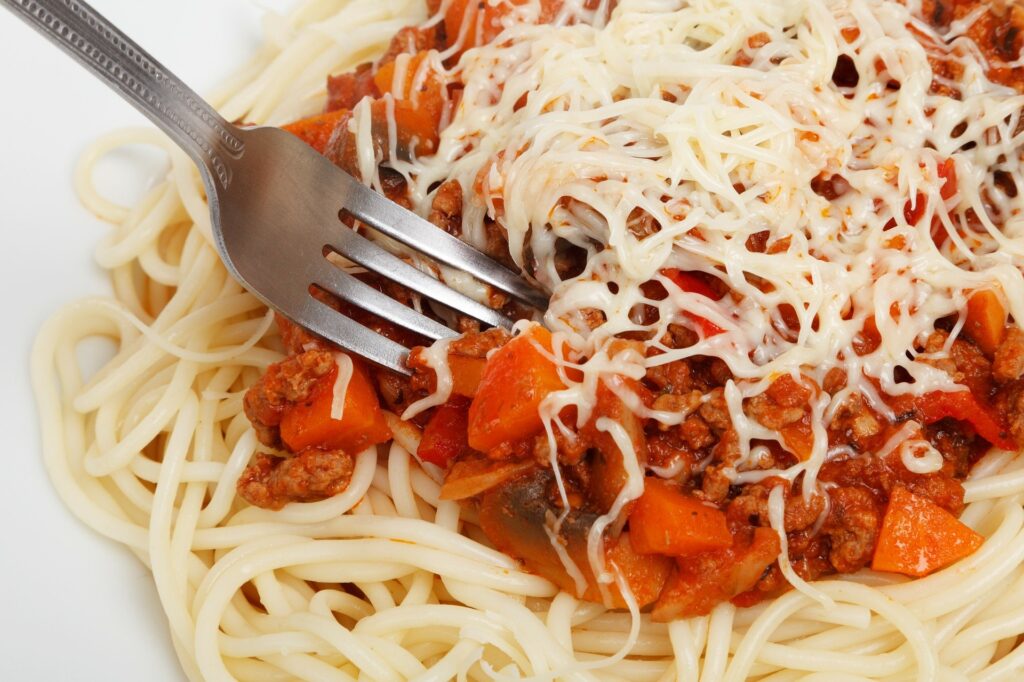 Here is a typical "Sunday Dinner" Sunday for us:
9am Cooks arrive to start preparing the dinner
10am Setup crew comes in to set up the dining area
Noon Guests start arriving, Servers arrive, Deliveries get staged
12:15pm Deliveries get picked up crew arrives
12:30pm Blessing, dinner serving starts, Cleanup
1:00pm Everything is served, cooks go home, some guests start to leave
1:15pm Most guests are gone, servers are finishing cleaning up the dining area and putting tables and chairs away, vacuuming the floor
1:30pm Servers are done and gone
2:00pm Cleanup crew is finished washing and putting away all dishes and goes home
Set-up – This job takes about 30 minutes.
Cooks – This is the group that plans, cooks and puts the food on the plates.
Servers – These are the people who take care of our guests.
Clean-up – these are the folks who wash all of the dishes and put everything away.
Deliveries – these are the people who pick up the dinners from the kitchen and deliver them to people who cannot come to the dinners.
Greeters – these are the people who stand at the doors to welcome people to dinner. They start at noon and leave when we do the blessing around 12:30pm.
Desserts – all of our desserts are home-made by the congregation.
Volunteers are usually scheduled to work once every three months (once per quarter), and quarterly "team" listings are emailed.
If you would like to volunteer for Sunday Dinner or would just like more information about Sunday Dinner, you can call Mark Renfro @ 585-721-2513
Shelter Visits & Cooking Ministries
Sanctuary House women's shelter and Francis Center men's shelter are visited monthly, taking a hot meal and fellowship. St. Josephs House of Hospitality is a shelter we visit on Mondays during the winter months, and small groups from the church choose a Monday to prepare and serve a meal. Help prepare food for delivery by teams going to the city shelters and tutoring program.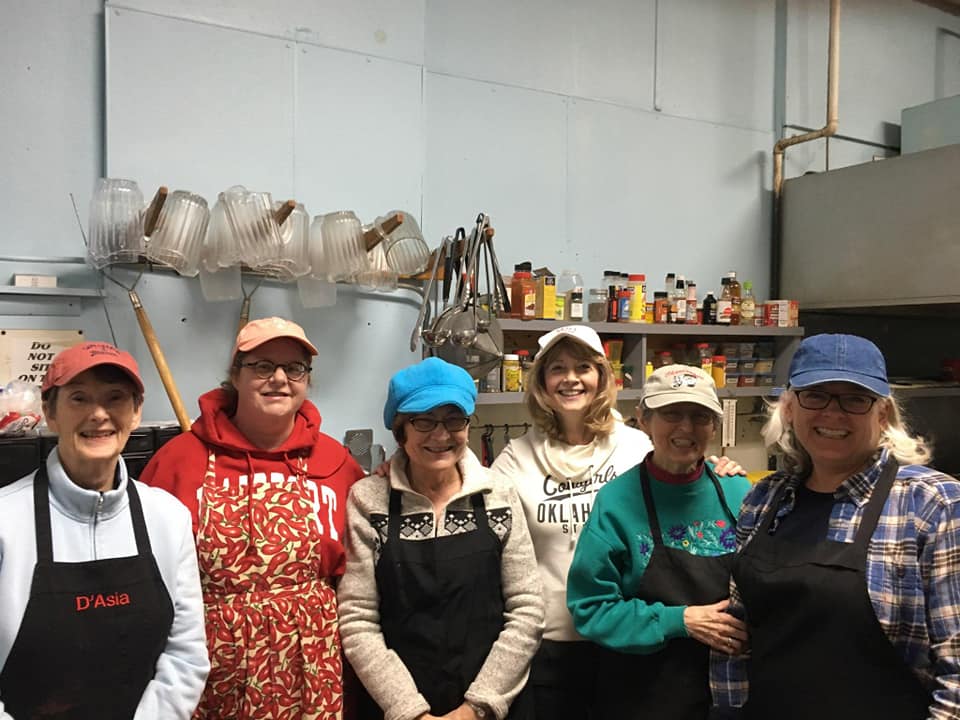 Learning Links
This is a weekly tutoring program at the Pines of Perinton. Find additional information at this link.
Gleaning
During harvest time in the fall, a group goes to Bejo Farm in Geneva to glean vegetables. The gleaned vegetables are given to Foodlink, which then distributes them to people in need.
United Methodist Women
The work of the United Methodist Women is mission, which includes advocacy and service. As United Methodist Women we raise up women as leaders, encourage acts of service through the large group activities. We join together in God's mission through prayer study and the empowerment of the Holy Spirit. Our emphasis is children, youth, and women. Our program book is available in the Narthex with a list of activities we have planned for the year. They range from educational events such as our reading program to our traditional Christmas Holy Communion, we also enjoy fellowship at our annual picnic. All women are invited to these events and do not need to be a member of the organization or the church. All are welcome.
Under the Umbrella of United Methodist Women, we have three Circles that meet each month:
Naomi Circle meets the second Thursday at 9:30 in the church parlor. They come together in God's name for fellowship, service and learning. Their activities include soup and bread outreach, favors for nursing homes and financial donations to Kamina. Contact Carol Christensen at 223-8529 for more information.
Ruth Circle is a group of women who meet at church on the first Monday of the month at 7 p.m on the second floor. They engage in a book review each year, a nursing home project and invite speakers to share mission opportunities. Contact Lori Lorraine at 223-2924 for more information.
Deborah Circle meets the fourth Wednesday of the month at church in the parlor at 1:00 p.m. This group of women has actively supported the mission of United Methodist Women for many years. Speakers have informed them of issues related to children and women in our community. They have supported layettes for Cameron House, least coin for Church Women United and favors for nursing homes. Contact Wini Adams at 678-4202 for more information.
Book Club meets the fourth Monday night each month at Panera Bread. They meet at 7 p.m. to discuss a chosen book. You do not need to have read the book to attend. Contact Nancy Hoffman if you are interested at 747-4212.
United Methodist Men
UMM meets each month for breakfast. They hold educational and spiritual growth programs, usually with a guest speaker. There is also a men's small group that meets weekly. Additionally, the men participate in lawn care, maintenance and snow shoveling; provide the greenery for our Advent decorations; and host pancake breakfasts for the congregation.
Perinton Congregations for Flower City Habitat for Humanity
Perinton Congregations for Flower City Habitat for Humanity is one of the ministries of Ecumenical Ministries of Perinton, Inc., a "member" nonprofit corporation. Fairport UMC is one of a dozen Fairport/Perinton Churches that are members of the corporation and provide oversight of the ministries by appointing members to serve as corporate directors.
This year the eighth Habitat home has be built and dedicated by the Perinton Congregations for Flower City Habitat since 1999. Perinton Congregations raise $65,000 to help build for Flower City Habitat every 3 years or so. Fairport UMC's own 50/50 fund contributes $5000 each year.
Volunteer work on a new house will begin in July. Volunteers can work individually or assemble in groups of 8 to 20 depending upon work requirements. New for this year, the work to be done for each day will be listed online so you can choose a job that interests you. No experience is necessary and all tools will be provided. Volunteer workdays are 9 AM to 4 PM, Wednesdays through Saturdays. and will continue through the fall. Youth ages 16 and 17 can volunteer with written parental permission.
Small Groups
Please pick up the brochure in the Parlor that describes all our small groups.
Volunteer
There are many opportunities to volunteer in, or with, the church: Sunday School teachers, greeters, groundskeepers, VBS, shelter visits, and many more. Contact the church at [email protected] And check out our events page!
Links

Upper New York Conference
Genesee Valley District
The Religious Institute
The United Methodist Church
Reconciling Ministries Network
Learning Links of Fairport
Advent House, comfort care for the terminally ill
Perinton Churches Housing, Inc.
Fairport/Perinton Senior Living Senior Council, Inc.
Resolve (formerly Safe Journey) help for survivors of domestic abuse
Perinton Food Shelf
Perinton Ecumenical Ministries, Inc. (PEM) and Ecumenical Ministries of Perinton, Inc. (PEM)
Perinton Congregations for Flower City Habitat for Humanity
Prison Ministries of Upstate New York
Stop the Stima Roc (teen and young adult suicide prevention)
Flower City Habitat for Humanity